Evidence-Based Benefits of Online Music Education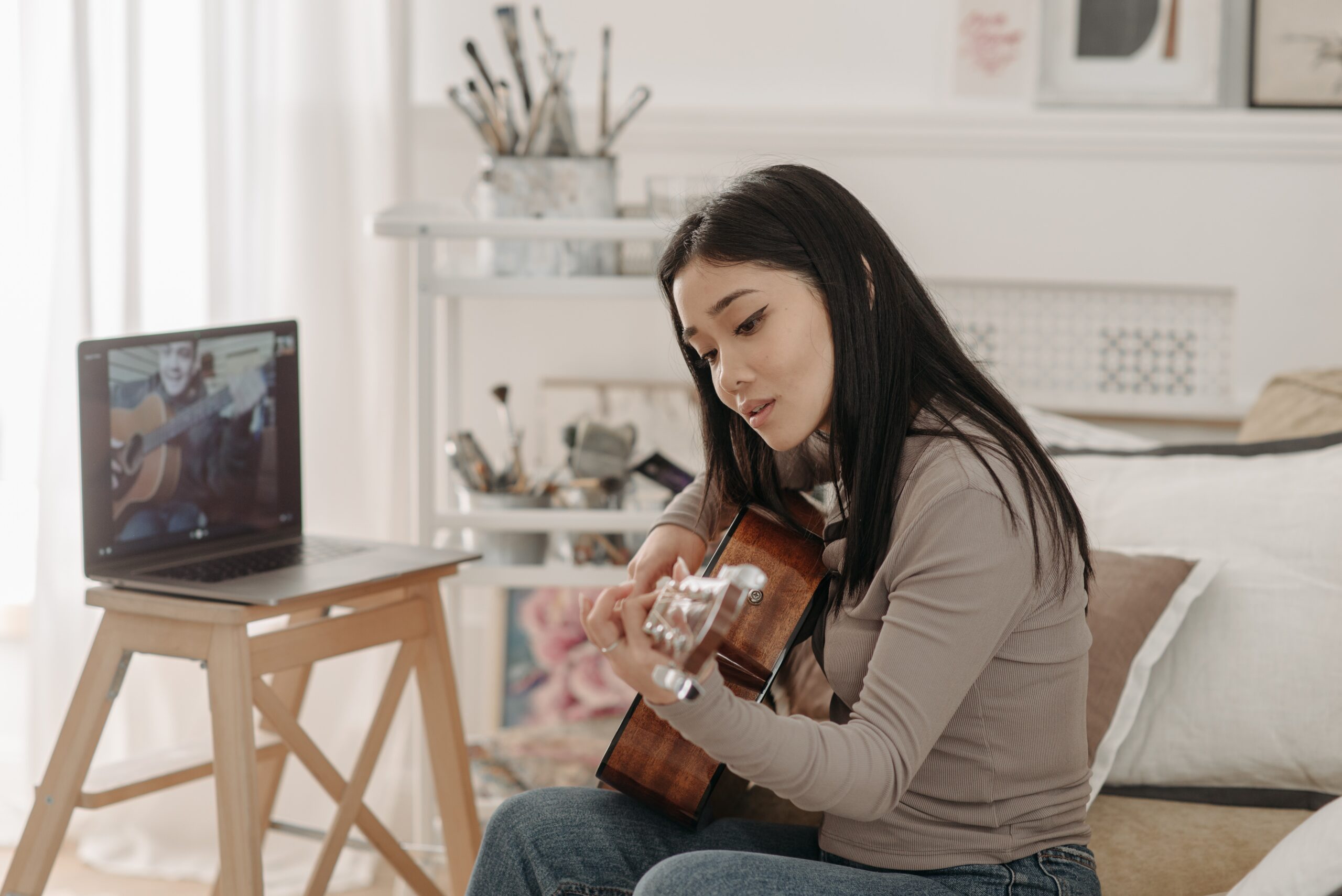 Imagine this: You're in your favorite corner at home, with your instrument, learning and creating music. It's as comfortable as it sounds. You're not in a boring classroom, and you're not on the clock. That's the beauty of online music lessons – they can happen anywhere and at any time, fitting seamlessly into your busy life.
Learning from the right music teacher
Research has shown that finding the perfect teacher who understands your learning style, personality, and musical aspirations is a significant factor in your success. In-person music lessons often limit you to the instructors available in your neighborhood or city, but online music lessons remove geographical barriers, broadening your horizons. You can learn to play guitar — or any other instrument — in your home in Maine from a teacher who lives in California. At Tunelark, our extensive network of qualified and experienced instructors ensures you find a perfect match for your learning journey.
A learning experience that's uniquely yours
Every student has different learning needs and goals, that's why Tunelark teachers create a customized curriculum for each learner. The effectiveness of virtual music lessons is enhanced by resources tailored to individual learning styles.
Furthermore, one of the most prominent benefits of online education, as highlighted in the NMC Horizon Report: 2014 K-12 Edition, is the flexibility it offers. This is especially relevant for music learners. With online music lessons, students can choose their own teacher, schedule lessons at their convenience, and record lessons for future reference, ensuring they truly grasp each concept.
Science backs online learning
Don't just take our word for it! In a study published in the American Journal of Distance Education, student performance increased by 22% during video chat lessons compared to an in-person learning setup.
A meta-analysis published by the American Education Research Association also found that online learning, when executed well, can produce outcomes comparable to, and sometimes even better than, traditional face-to-face instruction.
In other words, scientists have found that with the right instructor, virtual music lessons can be more effective than in-person lessons, largely due to increased focus and a decrease in off-task behavior.
A new frontier in music education
Many academic leaders recognize the value of online learning, and we're seeing several institutions adopt this setting (study by Allen et al., 2016). At Tunelark, we are excited about these promising findings and the new possibilities they offer for music education. We believe that everyone deserves access to world-class education, and we're committed to making learning music a fun, effective, and convenient experience for all.
Whether you're a parent seeking a trustworthy teacher for your child or an adult ready to embark on your own musical journey, Tunelark is here to connect you with a perfect teacher match from our community of highly vetted, musical, friendly, and engaging instructors. Remember, learning a musical instrument doesn't just bring joy and enrich your life. It also supports healthy brain development, reduces stress, and contributes to achieving better educational and professional outcomes. To experience the efficacy of virtual music lessons for yourself, browse our community of world-class teachers and book a trial lesson for yourself or your child today.
About Tunelark
Tunelark is a community of inspiring, professional music instructors. Our shared vision is to help our students connect with their intrinsic love of music and follow their curiosity to grow as musicians and people. 
Lessons take place over video chat so that students can learn from the comfort and convenience of their own home. 
Browse our community of expert teachers and pick the one who resonates most with your goals and learning style. As always, we guarantee a great match or your money back. 
If you're ready to get started with 1-on-1 online music lessons, book your first lesson with a Tunelark instructor today. Your first lesson is 50% off!