We love working with
talented musicians
The 200+ experienced educators in our community bring warmth, patience,
and energy to each lesson.

Berklee-trained bassist Victor Murillo has played with the Boston Pops, Wynton Marsalis, and other world-famous musicians. While he is best known for his proficiency in both jazz and san jarocho, he also teaches bass at all skill levels and styles.
Diego Espinoza holds a doctorate in oboe performance and regularly performs on international tours. He specializes in contemporary and electroacoustic styles.
Opal is a seasoned performer with a degree in vocal jazz from Howard University. She aims to help her students achieve their wildest dreams as a vocalist.
Grammy-nominated Aimee Bobruk is an international songwriter and performer. She teaches songwriting, guitar, piano, and ukulele in a wide range of styles.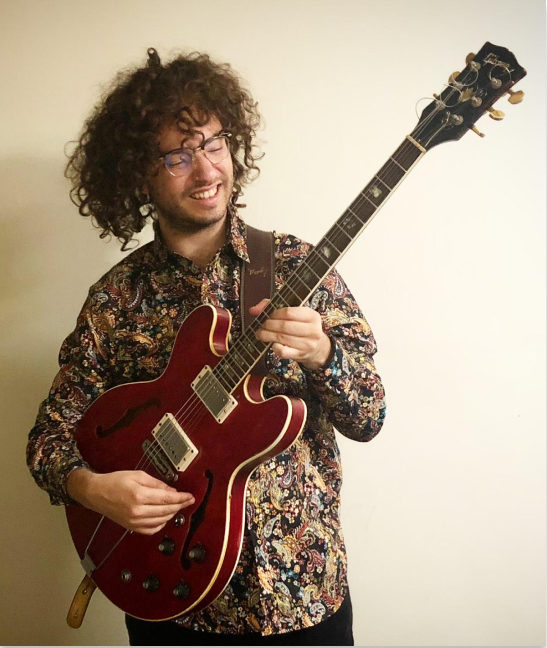 Zack holds a degree in jazz performance from the Purchase Conservatory of Music, and is equally fluent in a wide range of other styles. He is a dynamic instructor with a passion for inspiring students to find their voice on the guitar.
Jessie specializes in pop/rock vocal technique as well as classical piano and songwriting. As a repeated winner of 'Best Pop Act' in the Dallas Observer Music Awards, she loves helping her students break out of their shell and own the stage.
Jacob is a Juilliard-trained baritone and internationally touring opera singer. He loves teaching consistent, confident technique in any style—classical to contemporary—and welcomes students of all skill levels and backgrounds.
Suzuki-trained Devin Burgess loves to inspire violists of all levels and ages. Her degrees in performance and pedagogy have prepared her to customize lessons and guide students to realize their full potential.
Adriel's degrees in electronic media and audio production have enabled her to work with producers from all over the world. She shares her wisdom and guidance with students through lessons in guitar, piano, ukulele, songwriting, and music production.
Exceptional educators, hand-picked by our admissions team
We select the most talented music teachers from across the US. We look for the powerful
combination of outstanding musicianship and a passion for inspiring students to find their own
musical expression.
Expert musicians
Musicians in our community
are highly skilled in their
instrument of choice and have
a track record of excellence
in teaching and performing.
Fully vetted
Every teacher in our
community has been fully
vetted by our team, and has
passed a background check.
Goal-oriented
Our teachers listen to student
goals and ensure that each
lesson is a productive learning
experience with a clear
sense of progression.
Friendly teachers
Our teachers are professional,
patient, and warm, making every
lesson productive
and fun.
Browse our community
of world-class teachers
to find the ideal match
for you or your child
What our students are saying
We love James! James is so encouraging and warm, and has a million workarounds for when a concept or technique is difficult for my 6 year old to grasp. They have been very positive, encouraging, and full of energy… which might be why Lucas has been asking for more lessons. I sent you an email just now about adding another lesson to the week, if James has availability.
Dorothy G.
Voice student parent
Rolf is a seriously talented teacher, and has been a perfect mentor for my early development on the violin. He has a good eye and ear for the details of my playing, and I feel he is good at keeping track of my proficiencies and shortcomings on an individual level. I honestly have nothing but good things to say about his teaching and personality.
Henry S.
Violin student
I have found Andrew to be a great teacher for me. He has helped me a lot, just in the few lessons we have had, and I look forward to continuing to learn from him. He has an easy-going style, which is great for me – I am enough of a taskmaster on myself!
Tim J.
Cello student
My daughter Lucy is taking violin with Pricila and it's been a perfect match. Lucy loves her and looks forward to lessons every week. Pricila is flexible with scheduling and is always on time. I can hear Lucy's improvement, but for me, the important thing is that she enjoys it. Lucy is a serious swimmer, so her time is limited. Virtual lessons work so well for her schedule. I'm really happy with Tunelark and highly recommend it.
Dawn C.
Violin student parent
I gotta brag on him for a minute. AR rocks!!! I am having the best time with him. I thoroughly enjoy our hour each week. I know I'll progress to the next level with his assistance and hard work. The BEST guitar coach I've ever had! He's extremely knowledgeable about all things guitar, recording and engineering. Thank you.
John T.
Guitar student
We are very happy and grateful for Berit, my daughter's teacher. She is just PERFECT for her, and she is helping her a lot and bringing the best out of her. Maya managed to be accepted at the Musical Lyceum in Italy where we live, based on an audition for which Berit also helped her.
Cristina Z.
Percussion student parent
Alex is terrific! My daughter is learning new skills and better yet, she's practicing on her own without me even asking! I say that's the best sign of all. Alex is super engaged and makes sure to offer up songs to learn that Leah is interested in.
Julie B.
Saxophone student parent
I am very pleased with my lessons and with my instructor, Dave. I am grateful for the opportunity and flexibility Tunelark offers to enable me to learn the bagpipe. I am a full-time nurse practitioner, and Dave graciously works around my limited availability to schedule lessons. Dave is very patient and kindly works with me where I am at, musically speaking. I am honored to learn from such a renowned piper, and look forward to continuing to do so.
Mary Beth R.
Bagpipe student